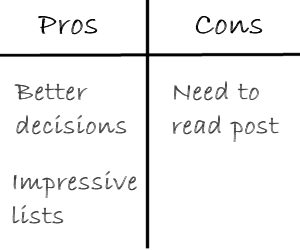 Out of all the decision tools out there, pro-con lists are one of the best known. But while easy to understand, pro-con lists can be hard to get right. Use these guidelines to make better pro-con lists.
1. Use for the Right Decisions
Use pro-con lists for Go/No-Go, Continue/Cancel or other decisions with a clear Yes/No answer. Avoid using them to decide between two or more choices. Use a decision grid or the Analytical Hierarchy Process for those decisions.
2. Ask the Right Question
Phrase your question so there's a clear default choice, e.g. "Should I hire a social media firm?" rather than "Should I hire a social media firm or do it internally?".
Questions with clear default choices give you clearer pros and cons. With the latter question you don't know whether to use the con "costs more money", to refer to hiring the firm, or  "saves money", to refer to doing it internally. Having a default streamlines your thought processes and allows you to word your pros and cons clearly to reflect your default choice.
When sharing with others, describe your default choice in a description of your decision. Or, if you do include it in your question, make the phrasing clear which is the default option, e.g. "Should I hire a social media firm instead of doing it internally?".
3. Use Differences Only
If the choice you're analyzing and your default choice both share the same pro or con, don't list it. A pro and con must be different than your default choice to be relevant to your decision.
Likewise, pros and cons should be in relation to your default option. Use words like "more" or "less" to indicate differences in quantity or quality, and "adds", "removes", "enables" or "prevents" to indicate attributes that only exist for one option.
4. Make It Personal
Focus pros and cons on your specific situation. Avoid abstract pros and cons which aren't relevant or important to you.
5. Drill In
Ask what benefits or losses an attribute causes, and consider listing those instead.
For instance, "a bigger yard" might have several benefits: more room for kids to run around, space to build a storage shed and room for a bigger garden. Drilling in might also uncover cons, like the need to mow the lawn.
If while writing down a pro, you think of a con related to that pro, or vice versus, you haven't drilled down far enough.
6. Avoid Duplicates
Be careful not to list the same pro or con multiple times using different wording. Evaluate each pro and con to ensure they are unique.
7. Avoid Compound Statements
Don't combine multiple pros or cons into the same statement.
Avoid pros like "Enables me to get another job and buy a new car". Split statements like these into two pros: "Enables me to get another job" and "Enables me to buy a new car".
8. Use Categories
One of the hardest problems with doing pro-con lists is ensuring you've captured all your pros and cons. To assist with this, create a list of categories before starting your list that your pros and cons could fall under. Use each category as a way of checking whether you've exhausted all the pros and cons in that category.
For instance, if deciding whether to move in with your boyfriend or girlfriend, you might explore pros and cons related to Finances, Chores, Space Sharing and Relationship Expectations. Within Finances you might list "cheaper rent" as a pro and "potential to argue over bills" as a con. If you ask yourself whether any other finance-related pros or cons exist, you could discover "won't be building credit if all the bills are in their name".
9. Explore Fixed vs Fixable Cons
Decisions aren't static. Once made, you have to implement them. And aspects of your decision can change during this time.
Consider which cons you might be able to work around and which ones will remain cons no matter what you do. Pay more attention to those cons which cannot be changed.
10. Evaluate from the Opposite Angle
Put your list aside and create a new list asking the opposite question. If you asked "Should I hire a social media firm instead of doing it internally?", instead ask "Should I do social media internally instead of hiring a social media firm?".
Don't peek at your original list. Go through the exercise evaluating your decision from the opposite angle. Once done, pull out your original list and compare the two sets of pros and cons. If you've explored all your options, the lists should match up exactly. Often, though, the opposite angle provides new insights you missed the first time.
What decisions have you used pro-con lists for?