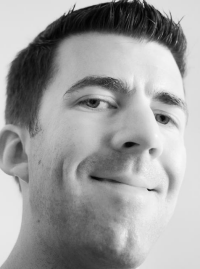 Welcome to the 3rd episode of the Lean Decisions podcast.
As part of my research into lean decisions, I interview people about the decisions they make and how they make them. This podcast publishes these interviews for you to learn from them too.
In this episode, I talk with John Knox (@WindAddict), a mobile developer at Evernote and creator of the blog Engineering Adventure, about a decision he made to start a t-shirt company right before the Business of Software conference. John started out unaware he even had a decision to make. Once he realized he had a decision, he explains how he made the decision and the benefits he's gained.
This episode is part 1 of 2 of my interview with John. Next time we'll explore his  decision NOT to buy a camera that would have helped him take better pictures.
Podcast: Download (Duration: 16:19 — 14.9MB)
In this interview, John talks about his decision to start a t-shirt company. There's three insights I want you to take away from it:
Consider the emotional and rational components of your decision
John talked about how he emotionally made the decision, but only tentatively. Before finalizing his decision, he verified the numbers made sense for the outcome he was looking for.
Use thresholds to make decisions
John set a threshold to help him make the decision. If the initial cost was going to be less than $1,000, he would move forward; otherwise he would abandon the idea.

Think about how you can define thresholds before you start gathering information for your decision. If you define your thresholds ahead of time, it's harder to rationalize going forward with a decision when you don't meet them.

Unearth the decisions you aren't yet aware you should be making
What has been nagging you at the back of your mind? What's been occupying your thoughts lately? Raise these decisions up to a conscious level so you can address them as true decisions.
Next week we'll explore John's second decision: why he decided not to buy a camera that would have helped him take better pictures, and why he decided to force a decision instead of keeping it on the back burner.
The Lean Decisions podcast is a bi-weekly feature on this blog. To subscribe, enter your e-mail in the subscription box at the end of this post.
If you missed the last episode, where I interviewed Chad Modad about how he selected a software vendor, listen to it here.
If you have any feedback on this episode, or would like to be interviewed for my research, please leave a comment below.