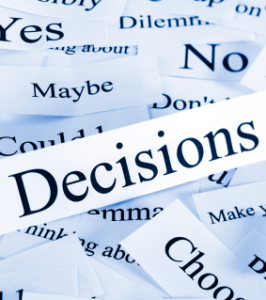 In June I launched Lean Decisions to help teach people how to make better decisions. Over the past 6 months I've covered tips, techniques, strategies and patterns for improving your decisions.
Today, with the 50th post, I look back over the past 6 months and give you a guide to learning how to make better decisions. Click on each link below to read an article describing one piece of advice.
But first, I want your feedback.
If you have found these articles useful, let me know. What are your challenges when making decisions? What do you most need to learn? What articles have been most helpful for you so far?
Add a comment below, post a comment on Facebook or e-mail me at feedback [at] leandecisions [dot] com.
Your feedback is critical to helping me shape the content of this site.
I'll be taking off for the rest of the year, but will be back next year with more articles. Have a happy holidays!
– Trevor
Build a Foundation
Develop a Strategy
Follow a Process
Avoid Bad Decisions
Use Your Body
Be Decisive
Learn Patterns
Study Techniques
Learn From Others